Native American Beadwork pride Native Beaded Medallion Pow Wow Regalia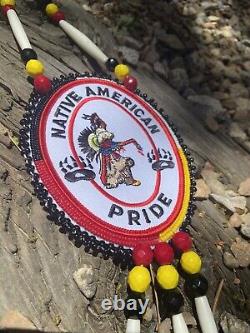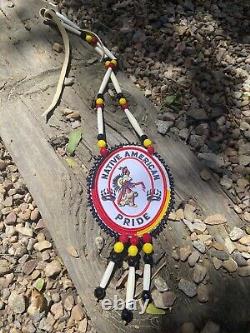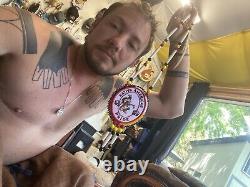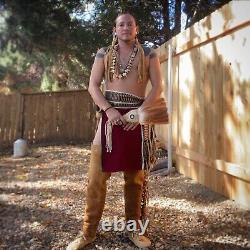 This item is Proudly Native American Made and will come with a Certificate of Authenticity stating my enrollment and clan information. Portions of each sale go to my local community, tribe etc. Last photo is of the actual artist.
Center portion is a large embroder patch. Medallion itself measures 5 1/4" by 4 1/4". Size 10 glass seed beads for the medallion. Bone and glass beads decorate the lanyard which is 14"on each side totalling 28". Last picture in this listing is a photo of the actual artist. TRIBAL AFFILIATION: Aniyunwiya Tsalagi (Cherokee). Your item comes with Certificate of Native American Made/Celtic Made Authenticity. Inedible meat is donated to zoos and local raptor rehab facilities. Clan member of Clan Crawford and Clan Fraser of Lovat.
Leather used comes from deer or Odocoileus hemionus which is not endangered. Bone/horn beads on this item are made from domestic raised buffalo: Bubalus bubalisI do not use endangered species on my items.

---