Indian Beaded Rifle Scabbard Sioux Style Suede Leather Native American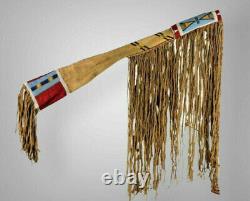 We made Scabbards on special order. We Believe In Long Term Relationship With Our Customer. We Always Use Good Quality Material As We Describe in Our Products.
But In case If You Have Any Issue Or Find Anything Wrong In our Products Please Let Us Know Before Leaving Any FEEDBACK. We Will Resolve Your Issue And Make Sure Your Satisfaction First.
Reviving the 1980's Cowboy/Cow lady Style. Take your measurements and refer to the size chart before you order.
Please make sure that you select the right size from the above-mentioned size chart. We strive to provide best service to our customers. South America, Chile, Mexico, North America, Algeria, Kenya, Nigeria, Swaziland, Zimbabwe, Brazil, Iraq, Argentina, and South Africa. We are more than happy to work out any questions or disputes that customers may have.

---