Antique Vintage Sterling Silver Native Navajo Cripple Creek Turquoise Necklace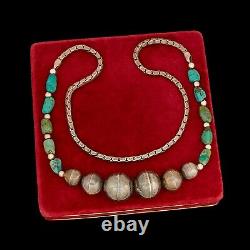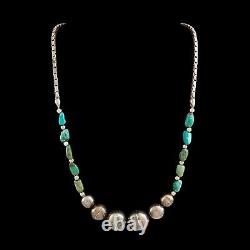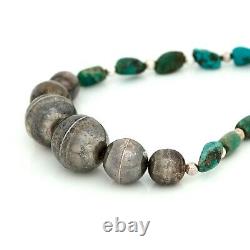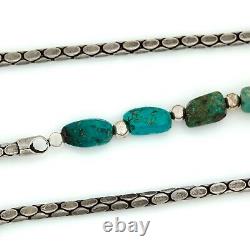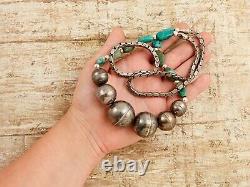 We have similar Native and Navajo items, which would pair nicely with this piece, for sale this week. Listing Description by: Dylan L. Age Circa: Antique Native Navajo C. Markings: Unmarked, Tested, and Guaranteed.
Country of Origin: United States, Navajo Nation. Gram Weight: 91.2 Grams. Main Stone: Cripple Creek Turquoise. Main Stone Measurements/Color: The size of the turquoise in this necklace varies, On average each stone measures around 9.3 mm long by 16.2 mm wide, Opaque blue-green hue with beige striations. Stone Treatment: The stone(s) appear to be untreated, but we are not certified gemologists.
Stone(s) have been tested and guaranteed using a professional Presidium Duo refractive, heat, and hardness tester. Stone Cuts: Carved and Polished Cylindrical Turquoise Beads. Item Measurements: The necklace has a wearable length of 29" measures 1" wide at its widest. The beads at the center of the necklace graduate from 0.62" in diameter at the ends to 1" in diameter in the center.
The spacer beads measure 0.24 in diameter. The chain measures 0.14" long by 0.14" wide. Closure/Clasp Type: This necklace lacks a clasp and is meant to be worn over the head through the large gap. The chain is connected to the beaded portion of the necklace using bales.
925 Sterling Silver and Turquoise Beads Over Wire. 925 Sterling Silver Byzantine Bali Link Chain. Notable Features: The necklace was handmade during the Fred Harvey era circa 1940 by a talented Navajo artisan.
This gorgeous necklace features graduating beads, carved and polished turquoise stones, and many other fantastic details. This lovely item would have been carefully crafted by hand, with extreme detail being given to every portion of the item. This necklace is certain to stun, and is a lovely example of the great talent of the Navajo people.
This gorgeous item features six graduating beads as well as ten hand carved and polished Cripple Creek turquoise stones. The Cripple Creek turquoise stones would have been hand sourced from the Cripple Creek Mine in Colorado. These stunning stones display a gorgeous opaque green-blue hue with beige, brown, and black striations, depending on the stone. These gorgeous stones were specifically hand carved and polished into cylindrical cabochon beads to promote their gorgeous internal matrix, which adds to the value of this item. The stones retain their original shapes in many ways, and the carving was very minimal and meant only to create a more uniform look to the beads.
The beads themselves are large and hollow, and would have been made using the repousse technique. The repousse technique dates back as far as the 3rd century BC and involves hand hammering precious metals into beautiful and intricate patterns. This lovely item features smaller spacer beads between each cripple creek turquoise stone, which serves not only to protect each bead from cracking or chipping the other while being worn, but to add a lovely contrast to the piece.
This lovely necklace has a Byzantine Bali inspired chain, which would have been added at a later date - likely during the 1960s. Despite this, the two portions of the necklace come together beautifully. This gorgeous Old Pawn Navajo necklace is an incredible find, and is extremely valuable. This lovely Native American necklace would make a gorgeous addition to any antique collection and is not soon to be forgotten. Please don't miss your opportunity to own this amazing piece of world history.
There is some natural wear to the stones, which likely occurred while the item was being made, and is to be expected of an item this age. The sterling silver is tarnished, which adds a lovely antique appearance to the item, and draws out the hues of the stones adorning the necklace. The chain and the spacer beads are not original to the front portion of the necklace, and was added at a later date - likely the 1960s. Some of the larger hollow beads are slightly dented, which is to be expected of a hollow item this age. The price of this item has been reduced to reflect this. This listing is for the item only. This beautiful piece was made by a very talented Native American silversmith. It features handcrafted silversmith work throughout. Antique Native American jewelry is very rare to find. This is due to these pieces being made for reservation and personal use before the tourist trade became popular. Very few pieces were made and even less survived to today.
The Navajo Nation sits on 27,000 square miles within the states of Arizona, New Mexico, and Utah. The Navajo have a rich history and culture and have become known for creating some of the finest sterling silver and turquoise jewelry, incorporating their own traditional motifs with silversmithing.
The squash blossom necklace is perhaps one the most famous Navajo styles produced, along with turquoise inlay rings. Turquoise is an important stone in Navajo culture; symbolizing happiness, good fortune, and good health.
The first Navajo silversmith, Atsidi Sani, was taught around 1865 by a Mexican silversmith. Atsidi Sani, in turn, taught his four sons, who then started teaching other Navajo artisans. In the beginning, Navajo artisans created sterling silver jewelry for themselves and others in the Navajo Nation. The concept of Pawn, Old Pawn, and Dead Pawn Native American Jewelry came to be in the 1800s. When a loan wasnt repaid, the item became known as either Old Pawn or Dead Pawn.
Turquoise is found all over the world and has been a popular semi-precious stone used in jewelry and art for thousands of years by many different cultures; from prehistoric times to the present. Turquoise comes in many beautiful color variations; from the popular bright solid sky-blue hues to dark blue hues with dark spiderwebbing throughout, as well as aqua, teal, and many green varieties, and even some rare white with dark spiderwebbing. Cripple Creek Turquoise is found in Colorado and has a range of colors from deep blue to a rich green with a warm golden-brown matrix. The mine was originally a gold mine; turquoise was pulled out as a byproduct, and on rare occasion, Cripple Creek Turquoise may contain bits of natural gold ore. Repoussé began as an ancient metalworking technique dating as far back as the 3rd century BC, involving malleable metal that was hammered onto the reverse side to create an image on the front.
Examples are found all over the world; Greece, Egypt, and even the Hopewell periods in the American southeast. Reverse side hammering was also used to add detail to the front, creating intricate patterns using grooves, indentations, and channeling.
The piece was then carefully polished to create a hollow, eye-catching treasure. Byzantine Bali jewelry was crafted with a classic twisted or braided style that invokes a sense of the ancient times of the Byzantine Empire, where men and women wore jewelry as a symbol of status and power.
Interwoven links, rope twist details, and looping applied wires, and granulated beads are the hallmarks of this bold style of jewelry. The item "Antique Vintage Sterling Silver Native Navajo Cripple Creek Turquoise Necklace" is in sale since Sunday, August 11, 2019. This item is in the category "Jewelry & Watches\Ethnic, Regional & Tribal\Native American\Necklaces & Pendants". The seller is "abeautifultimeco" and is located in Fort Collins, Colorado. This item can be shipped worldwide.
Country of Origin: United States, Navajo
Modified Item: No
Country/Region of Manufacture: United States
Material: Wire
Ethnic Origin: Navajo
Type: Beads
Featured Refinements: Vintage Turquoise Necklace
Metal Purity: .925
Main Stone: Turquoise
Metal: Sterling Silver
Brand: Hill
Jewelry Type: Necklaces
Tribal Affiliation: Navajo

---